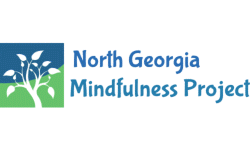 A meditation & yoga teacher, Dr. Jessica Place has been co-owner of North Georgia Mindfulness Project since 2017. NGMP creates and implements a non-secular and scientifically-based curriculum related to meditation and Mindfulness for various groups of people with similar life/work circumstances who have found they want less anxiety and stress in their lives.
She is also an adjunct English professor for American College of Education. A 20 year veteran teacher, she recently resigned from the high school English classroom to pursue her true passions. Her PhD is in curriculum & instruction.
Jess has been married to her husband, Russ, for 16 years and is the mother of two daughters. In her spare time, Jess loves to read, workout, hike, mountain bike, practice yoga, meditate, and spend time with her family and two dogs. She is yoga teacher (RYT 200) and is working toward her RYT 300 certification. She is also Kidding Around Yoga certified.

"Mindfulness has changed my life, and I want others to understand that they don't have to be unhappy - that they have the the power to change themselves."​

Contact: Dr. Place
Mindfultool@gmail.com
678-641-3333
​
Patrick's been a Special Education teacher for 23 years. While conducting research on the development of the human brain, he came across research on Mindfulness. As someone suffering and taking medication for stress and anxiety, he decided to give it a try. Mindfulness improved all aspects of his life; he's been practicing for 12 years and is no longer on medication. He believes Mindfulness can also help his students experience less stress and anxiety. Four years after the publication of his dissertation, he now teaches Mindfulness classes. Patrick has been married for 30 years and has two sons.

"I believe everyone can experience the benefits of a Mindfulness practice and I'm committed to teaching as many people as possible."
​​
Contact: Dr. Delaney
Mindfultool@gmail.com
678-629-7155
​
"I learned from the practice...it held me accountable for really practicing Mindfulness in everyday life.
I learned that I am not alone with these problems, and how to live in the moment."
"I found the whole experience rewarding, insightful (about myself), and helpful in controlling stress levels. I thoroughly recommend it to everyone who has issues controlling anxiety and stress or just being able to focus."
"Patrick worked with my teenage daughter who is a soccer player and was struggling with some of the mental pressure of playing in a competitive environment. It has made a huge difference in her confidence and it shows in her performance and her happiness on and off the field."